London Ear 2018 will take place from March 21st to 25th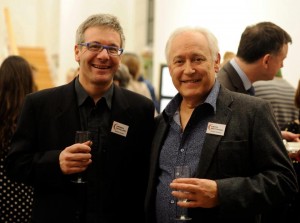 Artistic Directors Andrea Cavallari and Gwyn Pritchard
LONDON EAR is a five-day festival of Contemporary Music, founded in 2013 by its current Artistic Directors, Gwyn Pritchard and Andrea Cavallari.  The festival is promoted by Uroboros Ensemble, in association with Accademia San Felice.
VENUES include The Warehouse, Theed Street, the adjacent gallery The Cello Factory in Cornwall Road, St John's Church on Waterloo Road and Rambert's Mercury Studio in Upper Ground, opposite the national Theatre.

TEN CONCERTS, including evening, lunchtime and brunch concerts, and late-evening 'cabaret style' concerts of a more experimental nature in the Festival Club.
BRITISH PERFORMERS include the London Sinfonietta, who open the festival with a major British premiere. Other performers from the UK are mezzo-soprano Hilary Summers, Uroboros Ensemble and pianist Jonathan Powell.
NON-UK PERFORMERS include renowned flautist Roberto Fabbriciani (Italy), Neo Quartet (Poland), Ensemble ö! and UMS 'n JIP (both from Switzerland), Ensemble Via Nova (Germany), Helsinki Chamber Choir (Finland) and violist Tomoko Akasaka (Japan).
RECENT MUSIC (mostly post 1980) comes from many countries. There is a focus on music from Japan, and from countries on the Baltic Sea.  A retrospective on the music of Berio includes all his works for piano, and other established figures include Donatoni, Takemitsu and Harvey.  Alongside these masters there are several pieces by less internationally known, emerging or undiscovered composers. There are several world and UK premieres. Styles embrace mainstream 'contemporary-classical' to 'experimental', with some pieces involving live-electronics.
BRITISH COMPOSERS include Christopher Fox, Rebecca Saunders, James Erber, London Ear's director Gwyn Pritchard, young composer Hollie Harding, and three UK residents from other countries: Haris Kittos from Greece, Alejandro Vinao from Argentina, and from Italy Andrea Cavallari (also a director of London Ear).

PRE-CONCERT EVENTS, talks and interviews are designed to enhance the audience's understanding and appreciation of the music, and allow them to meet some of the composers and performers. One of these, on the work of Berio, will be given by Talia Pecker Berio, wife of the the great composers.
OPEN REHEARSALS  – some performers will open their pre-concert rehearsal, for the audience to get a foretaste of the concert.
THE FEATURED YOUNG PERFORMER, a young professional player identified by audition, will gain invaluable experience as soloist and as ensemble participant.
MASTERCLASSES & WORKSHOPS, for advanced students, are designed to encourage commitment and skill in the performance of new music, and also aid composers in understanding the associated instrumental techniques.  They are open to observers.

AN EDUCATIONAL PROJECT will involve children 9–16 in the preparation of a piece to be performed by the children as a preface to a festival concert.
A FESTIVAL BOOK will give comprehensive information about the music, the composers and the performers.
A FESTIVAL CLUB will enable audiences to meet and talk with composers and performers in an informal atmosphere, with scores, CDs etc. on display, listen or to buy. To add to the conviviality food and refreshments will be available.
FESTIVAL TICKET PRICES will be affordable and include substantial concessionary discounts for children, students, unemployed, the disabled, and people living close to the venues.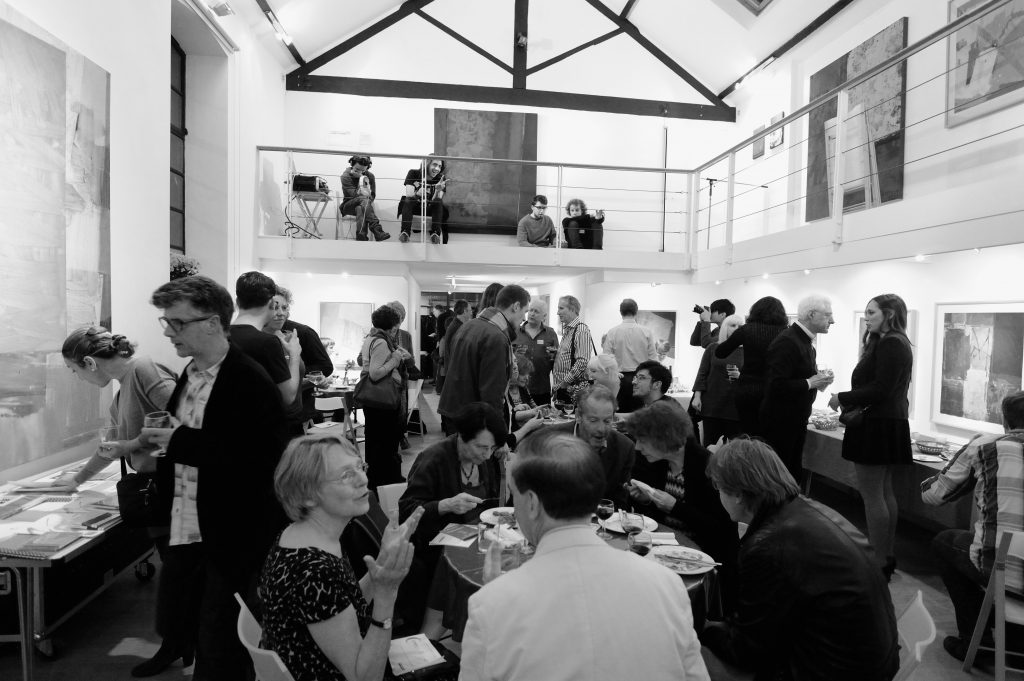 Between events the audience enjoys refreshments and browses scores.
To read a detailed description of London Ear's musical objectives download the file LEF Objectives