Patrons: Frank and Susan Hinks
London's new festival dedicated exclusively to contemporary classical music
London Ear Festival of Contemporary Music is a new international festival now in its third year, presenting concerts of music by established, emerging and undiscovered composers. See the overview for full concert listing.
Between the (Y)ears:  19–22 March, 2015
London Ear welcomes you to BETWEEN THE (Y)EARS, a series of events designed to keep the spirit of London Ear Festival alive between the biannual festivals of 2014 and 2016.
The festival will feature
• Concerts by world class performers
• Preconcert talks and interviews
• Masterclass for harp and composition students
The considerable success of the first two London Ear Festivals was both rewarding and inspiring. The large audiences, including many full-houses, displayed an extremely enthusiastic response to the festival and its policies.  This led to the decision to present some concerts and events in the intervening years, between biannual London Ear Festivals.
Whilst the festivals have represented music from a number of countries, these concerts focus on only one country, Italy, exploring and discovering composers and works written in the past thirty years, many of them receiving their UK première. The programmes also include the world premières of new pieces, composed specially for this occasion.
FLAME (Florence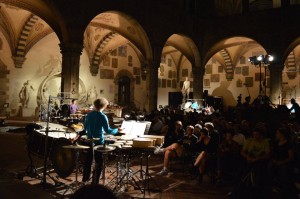 Art Music Ensemble) is the ensemble in-residence, performing most of the works in the programmes. The concerts continue London Ear's policy of representing music by established figures, alongside pieces by composers who are unfamiliar to British audiences, some of them well known in their own country, others unjustly overlooked or at an early stage in their career. All of them, in our opinion, have something valuable to offer.
Events take place at The Warehouse and The Cello Factory, close to Waterloo, London.